More about us and Farm Dabib
Elegance and comfort awaits you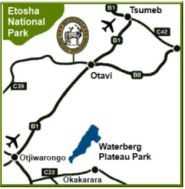 7200 ha Situated on an elevation of about 1000m, Farm Dabib offers their hunting guests a very good shooting range with 100m and 200m distance to prepare for their hunting excursions. The hilly terrain with bushland and savannahs gives you the opportunity for an interesting, diverse and eventful hunting experience. You have the choice of hunting on foot, by vehicle or from several ensconced areas.
The best trophies on Dabib are Eland, Kudu, Duiker, Steenbok, Warthog, Mountain Zebra, Burchell Zebra, Impala, Oryx, Blesbuck, Hartebeest, Blue and Black Wildebeest .
Accommodation on Farm Dabib
We offer 2 spacious thatched roof bungalows, each with 2 double rooms, elegantly and comfortably furnished.
All rooms are en-suite with power (220 V) and have their own verandahs and a rifle safe.
Services included:
Accommodation on the farm with full board and laundry service
The recovery and recycling of the game including raw preparation of the trophies
Hunting guide(s), tracker(s) and daily hunting trips
with the hunting cruiser
Services excluded:
Transfer costs to other hunting farms
Cost of completing the trophies and shipping them to your residence
Special safaris or rides
Alcohol and telephone charges
Rifle hire
Guests can also relax and cool off next to our big swimming pool in the lush green flowery garden adjacent to the bungalows. Birgit Ritzdorf will spoil you with her top-class cuisine, offering delicious home-cooked meals or traditional African dishes, it' s up to you to decide which. The relaxing, tranquil evenings are enjoyed beneath big old trees with a large fireplace where we barbecue or 'braai' as we call it in Namibia, the hunt of the day.
Well selected South-African vintage wines and Namibian beer are the perfect companion to round off a good meal further to the true Namibian hospitality provided by your hosts, Winfried & Birgit Ritzdorf.